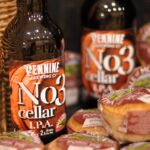 To celebrate British Pie Week the award-winning Pennine Brewing Co have paired up with the renowned Vale of Mowbray pork pie bakers. A match made in foodie heaven!
Not many people know that when Vale of Mowbray opened their doors on Leeming Lane in 1795 it was originally a brewery before becoming the famous pork pie baker that we now know it for.
The Plews & Sons, Vale of Mowbray Brewery originally brewed a traditional English pale ale so Pennine Brewing Co delved into old recipe books to find a brew that would bring this piece of history back to life and be a perfect pairing to their now famous award winning Yorkshire pork pie!
Head brewer Tim Butler said 'This was an amazing opportunity to research the rich brewery history that the Vale of Mowbray had, whilst being able to pay tribute to their original beginnings. We recreated their traditional IPA recipe by using the grain and hops available at the time whilst adding a 21st century twist!'
Named after the tasting cellar where the casks were stored. No3 Cellar is a 4.3% full bodied old English IPA with a citrus aroma leading to a deep hop bitterness and finishing with a new world fruitiness. The English hops used provide an earthy taste to the beer alongside a honey sweetness which was appropriate for the style at the time.
Cellar No5 is available in casks and bottles. Call 01677 470111 for further information about how to order.